Derek Leahy • Jun 19, 2014
Quebec will gain "minimal economic benefits" from west-to-east oil pipeline projects such as TransCanada's Energy East and Enbridge's Line 9 according to a new report released this month. Both projects would transport western Canadian oil and oilsands (also called tar sands) bitumen to refineries and ports in Quebec, but would only make a combined 0.50 per cent contribution to economic activity and 0.30 per cent to jobs in the province.
"Quebec will bear almost all of the risks and costs associated with spills and other environmental impacts, without any offsetting economic gains," Brigid Rowan, senior economist with the consulting firm The Goodman Group Ltd., and co-author of the report says.
Oilsands producers, pipeline companies, and the owners of the two refineries in Quebec have the most to gain from Line 9 and Energy East concludes the report by The Goodman Group Ltd. in collaboration with Greenpeace and Equiterre. The fifty-five-page report also refutes claims by pipeline proponents that supplying Quebec with cheaper western Canadian bitumen will make things cheaper at the gas pump for Quebecers.
"Refineries will not provide discounts for Quebec markets when they can also sell their refined products to profitable markets outside Quebec," the report states.
"Consumers who think that oil companies will give them a break at the gas pump have another thing coming," Pierre-Olivier Pineau, an energy specialist at HEC Montreal Business School warns.
"The extra profit margin from cheaper Canadian crude oil will most likely be pocketed by the refineries," Pineau predicts.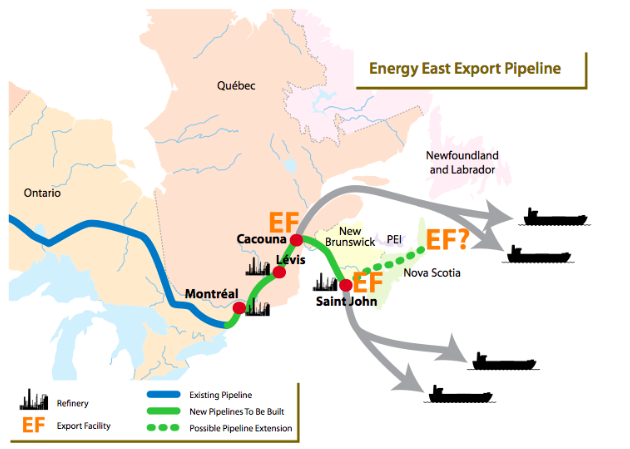 Quebec's coastal location gives both refiners and oilsands producers the opportunity to sell their product overseas if the price is right. DeSmog Canada reported last March as much as ninety per cent of the oil and bitumen TransCanada wants to ship through its proposed 4,600 kilometre Energy East pipeline will be exported out of Canada.
Petro-Chemical Industry Is A Small Share of Quebec's Economy
Refining jobs in Quebec are well paying and mostly union jobs, but much like the oil industry itself the refining sector involves large sums of money and yet employs very few people.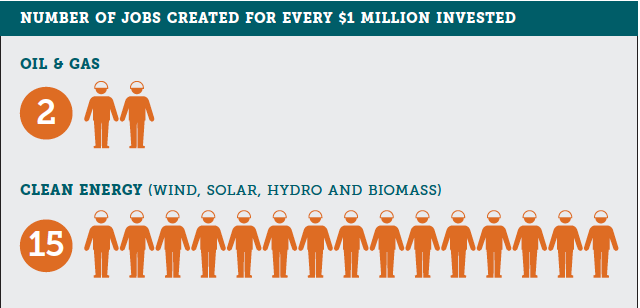 Ultramar's Quebec City refinery (owned by Texas-based Valero) and Suncor's refinery in Montreal employ five hundred people each or less than 0.03 per cent of Quebec's working population. The production of plastics and chemicals by the Montreal Petrochemical Complex employs 7, 500 or 0.40 per cent of the working population in the city.
"If it is assumed that each of the jobs directly at Quebec refineries results in up to 11 other jobs elsewhere in the Quebec economy (i.e. for every direct job, there are 11 other jobs from contractors, suppliers and spin-offs), the total for the entire economy is still about 12,000 jobs (or less), equivalent to about 0.30 per cent (or less) of the provincial total. Likewise, even if it is assumed that the Quebec refineries result in a very wide range of spin-offs, the impact on overall economic activity (Quebec GDP) is around $1.5 billion (or less), equivalent to about 0.50 per cent (or less) of the provincial total," the report states.
Pipeline Construction Will Create A Few Short-Term Jobs in Quebec
The report estimates the economic impact of the construction of Energy East and Line 9 on Quebec's economy will be 0.20 per cent annually over a four-year period. Line 9 will require very little construction whereas Energy East will involve laying of 1,600 kilometres of pipeline from southeast Ontario to Saint John New Brunswick and the building of marine oil transport ports in Quebec and New Brunswick.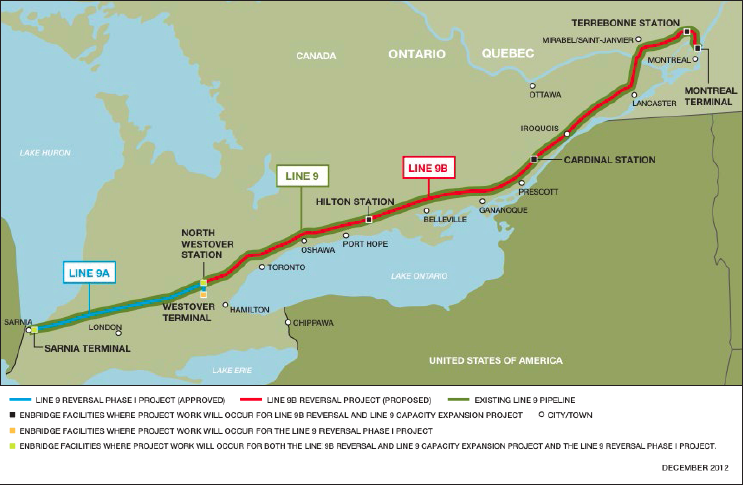 "Once the initial capital investment (i.e. construction phase) is completed and the pipelines are in service, ongoing operations would have minuscule labour requirements and impact (less than 0.04 per cent/year with the Suncor coker and less than 0.02 per cent/year without it) on overall economy activity," the report concludes.
A Pipeline Rupture Would Cost Billions
If the economic benefits of west-to-east pipelines for Quebec are "insignificant" a pipeline rupture "could have a huge impact on the environment, waterways, human society and public safety." The Goodmann Group, a consulting firm specializing in energy economics estimates a major pipeline rupture in an urban centre such as Montreal could cost between five to ten billion dollars to clean up and result in a major loss of economic activity.
"Typically spill risks are socialized with local inhabitants (human, wildlife and plants) bearing large costs: the area where the spill occurs is often never fully restored; waterways and drinking water can be polluted; humans can lose their homes and livelihood and/or be subject to a deterioration in their quality of life; and wildlife and plant life are killed. Tar sands heavy crude is particularly difficult to clean up," the report states.
Pipeline companies in Canada do not carry liability insurance for pipeline spills anywhere close to five billion dollars. Canada's largest pipeline operator – Enbridge – has $685 million for all its operations.
"Quebec citizens should be concerned," the report warns.
Refining Bitumen Puts Quebec's GHG Reduction Targets in Jeopardy
"In the current Canadian context Quebec can play a key role: if the province rejects the pipeline projects, then tar sands expansion will be constrained – allowing more time for the emergence of green alternatives. Moreover, Quebec has tremendous risk exposure from Energy East, as this pipeline will use Quebec as a conduit to export enormous quantities of dirty oil from the tar sands", says Patrick Bonin of Greenpeace Canada.
Quebec has proposed greenhouse gas (GHG) emissions reductions targets of a twenty-five per cent cut (1990 baseline) in the GHG emissions the province produces by 2020. These targets to reduce global warming emissions far surpass Canada's own national emission reduction goals. Refining bitumen in Quebec, a heavy unconventional oil that produces up to forty per cent more GHG emissions to extract and refine than conventional oil, will put these provincial targets in jeopardy.
"Not only would approval of the projects increase greenhouse emissions from refining more heavy crude in Quebec; but they have the potential to have a much greater incremental impact on Canada's overall GHGs by enabling tar sands expansion," the report concludes.
Refineries in Quebec currently lack the necessary equipment to refine large quantities bitumen, although it appears Suncor may make the two billion dollar investment to retrofit its Montreal refinery for bitumen. Bitumen needs to be 'cooked' longer during the refining process and at higher temperatures than conventional oil to be turned into liquid fuels.
Enbridge's Line 9 pipeline project from Sarnia to Montreal was approved by the National Energy Board – Canada's federal energy regulator – last March but faces two legal challenges that are ongoing. TransCanada announced earlier this month the pipeline company will apply for its 1.1 million barrels a day Energy East pipeline from Alberta to Saint John New Brunswick in mid-August of this year.
Image Credit: David Suzuki Foundation, Economics of Transporting and Processing Tar Sands Crudes in Quebec report, Enbridge, TransCanada's Energy East: Export Pipeline, Not For Domestic Gain Report
---
𝐒𝐎𝐔𝐑𝐂𝐄 𝐀𝐑𝐓𝐈𝐂𝐋𝐄: https://thenarwhal.ca/energy-east-line-9-pipelines-will-have-insignificant-economic-impact-quebec-says-report/