By Pete Danko – Staff Reporter, Portland Business Journal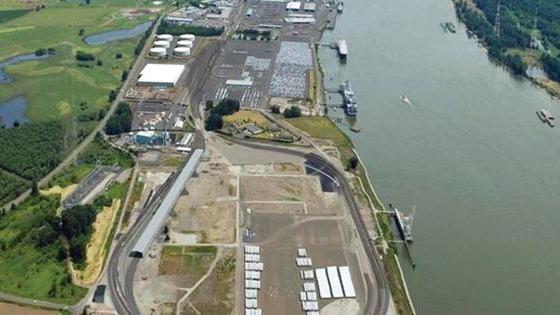 The developer and opponents offered diametrically differing views of a final environmental review of the proposed Vancouver Energy oil terminal, released Tuesday, a week ahead of a long-awaited recommendation on the controversial project from Washington's Energy Facility Site Evaluation Council.
In a presentation in Olympia, EFSEC staff said a Final Environmental Impact Statement identified four impacts from the project that would be significant and unavoidable and that EFSEC itself would be unable to fully mitigate.
Those included:
the possibility that a big earthquake on the Cascadia Subduction Zone could damage the terminal's dock, resulting in an oil spill;
increased rail accidents involving pedestrians and motorists due to more train traffic along the rail route into and out of the facility;
road traffic delays that would lengthen emergency response times;
and disproportionate effects on minority and low-income populations, including drops in property values, increased noise from rail traffic and delays for motorist and emergency responders.
Other significant impacts were also identified, but the report said those could be mitigated.
The FEIS is a huge document; the third chapter in the 10-chapter review, focusing on environment, impacts and mitigation measures, runs 554 pages alone. Council members received the document on Nov. 7, but the developer and opponents were seeing it for the first time Tuesday.
"Our initial assessment provides confidence that EFSEC's thorough evaluation of the facts will demonstrate our ability to build and operate the project safely and in an environmentally responsible way," Vancouver Energy said in an emailed statement Tuesday night.
The developer repeated a point EFSEC staff made in their presentation, that some of the highlighted risks — like the earthquake — were "low-probability" events, and others — like the traffic issues — could be be partly mitigated by parties other than EFSEC.
Stand Up To Oil, a coalition of groups aligned against the project, said its first look at the FEIS showed "multiple, serious public safety and environmental impacts that cannot be fully mitigated, including the potential for oil train accidents, seismic-related risks, harm to endangered salmon, rail delays and transportation disruptions, emergency response delays, and impacts to low-income and minority communities."
The project, a joint venture by Tesoro Corp. and Savage Cos. first proposed in April 2013, would help move up to 360,000 barrels of crude daily from the U.S. interior to West Coast refineries, with an average of four mile-and-a-half-long trains a day rolling into Vancouver.
"We now look to Governor Inslee to deny this project once and for all," Rebecca Ponzio, Stand Up To Oil's director, said.
Inslee will have that power after receiving a recommendation from EFSEC.
But that's not the only threat the project faces. The FEIS dropped exactly two weeks after voters elected a project opponent, Don Orange, to the Port of Vancouver USA Board of Commissioners, a position he will assume in January. Because the review of the project has taken so long, the commission has the opportunity every three months to vote to end the port's lease with the project.
Orange and returning Commissioner Eric LaBrant, comprising two-thirds of the commission, have both said they'll vote to end the lease. The earliest opportunity is likely to come at the end of March.
---
𝐒𝐎𝐔𝐑𝐂𝐄 𝐀𝐑𝐓𝐈𝐂𝐋𝐄: https://www.bizjournals.com/portland/news/2017/11/21/vancouver-oil-terminal-report-details-unavoidable.html